Formats, our parent company, offers CD DVD Duplication, USB Duplication, and MicroSD Duplication. Printing, packaging, fulfillment and distribution are handled in our facility.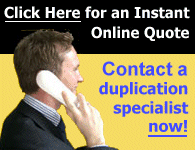 QUICK TURN DVD CD DUPLICATION SERVICES
Established in 1979, Formats Unlimited has provided
quality floppy disk, CD DVD duplication, USB Duplication services for three decades. Our friendly sales reps will see your job through from beginning to end offering quick turn 24 hour production!
CD DVD DUPLICATION QUOTE
Micro SD - USB DUPLICATION
USB sticks, also called Flash Pen, Jump Drive, and Flash Drive copying is here now. Micro SD & USB are fast becoming the best method to distribute marketing and sales info.
MicroSD & USB DUPLICATION QUOTE
CD ROM DVD REPLICATION and DVD MANUFACTURING
Housed in our NY facility, Formats has the ability to handle distribution, packaging and fulfillment. We also offer full print services such as manual and document printing. Complete CD manufacturing done the RIGHT WAY, Call Now !
ROM REPLICATION QUOTE
Formats will take your job from start to finish. Whether your producing 100's or thousands of CDR's, DVDR's, CD-ROM's or USB sticks, we offer a broad range of USB, DVD / CD duplication services to meet your needs.
Design, Production and Printing
Package Labels
DVD CD Mailers
Custom Package Development, Printing and Production
Documentation Printing and Binding
Registration and Business Reply Cards
Marketing and Sales Materials Printing
Bar Coding
Private Label Media Packages
Fulfillment and Distribution
Order Processing
Upgrades
Demo DVD / CD Mailings
Inventory Management and Warehousing
National and International Distribution
Worldwide Drop Shipments
Project Management
Lead Time Coordination
Part Number Assignment
Bill of Material System
Inventory Control
Material Procurement
Project Manager Assignment
Other Services
Formats offers a full range of DVD CD duplication services including:
USB Sticks
ZIP Disks
Conversion Services
Audio and Video duplication Services
Duplicate or Replicate
CDRs, DVDRs, as with CD-ROM and DVD ROM, and USB Duplication needs are becoming more and more prevalent in the duplication services industry. Our DVD / CD duplication offer unique features such as high data capacity, superior reliability, durability and portability.
CDR and DVD provide an excellent testing tool for prior and post CD-ROM pressing. In small range (from 10 to 1000, or more), and for smaller distributions it's more economical to burn CD / DVD than pressing CD ROMs. Using CD-Rs and DVD-Rs also offers a quick turn process. This ensures that you get faster test results, helping you to swiftly move towards a final master or release of a larger CD ROM / DVD ROM run.
You can save time and money by having your ROM project burned and tested using the CD-R write Once technology. CDR represents fraction of the cost of stamping a CD-ROM in small quantities. You can have one or hundreds of CD / DVD burned so that you can distribute and or test your software before you take it to the stamping process for larger run sizes.
As multimedia projects have become very popular, so does the need for Duplication of USB sticks, CD-R and DVD-R. In addition to being an alternative to small CD-ROM / DVD ROM runs USBs, CDs and DVDs are also a quick way to back up large amounts of data. Data transfers from Tapes and Hard Drives provide another option for archival of your files. Our services include converting any type of tape or medium to CD-R / DVD-R and quickly. We provide you with your finished disc.

© MF DIGITAL
a division of Formats Unlimited, Inc.
All Rights Reserved
Microsoft, Windows, and the Windows XP, CE Logo are registered trademarks of
Microsoft Corporation in the United States and/or other countries
Phone 631-249-9393 Fax 631-249-9273